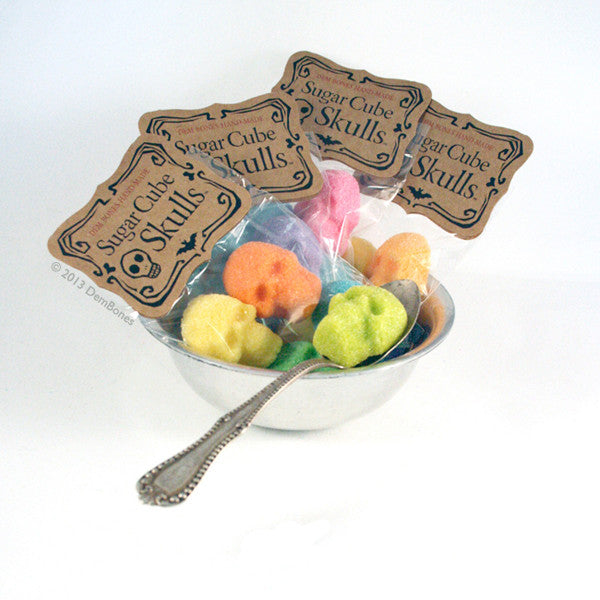 SIX PACK DEAL Bagged Sugar Cube Skulls Colors
Colorful Sugar Cube Skulls (4 per bag/ 6 bags)  SIX PACK DEAL
These hauntingly sweet, sugar cube skulls are created in the festive hues of Dia De Los Muertos and are the perfect way to set the mood for any occasion. Each sugar cube is moulded in small batches and hand packed with love. Dem Bones Sugar Cube Skulls "the original" since 2010. 
A striking holiday gift! 
One Lump or Two?
~ Wedding or bridesmaids gift
~ Use on a Dia De Los Muertos Altar
~ Cupcake toppers
~ Set your table for a gothic tea party
~ Hex your friends on Halloween
~ Perfect favors for any special event
~ Indulge with a nightmarish luxury in your morning coffee
~ A great gift for your friend that has EVERYTHING
DETAILS:
• 100% pure sugar
• No flavoring as been added
• Food Grade Colorants
• Each Skull measures 1/2" X 1' and is slightly more than 2 teaspoons of sugar
• You are buying Bags of Colorful Sugar Cube Skulls (24 sugar cubes)
• Sugar has no "shelf life" it can be stored forever, however I recommend using these within 1 1/2 years. Humidity and direct sunlight may also have an effect on their length of storage.
---
---
More from this collection